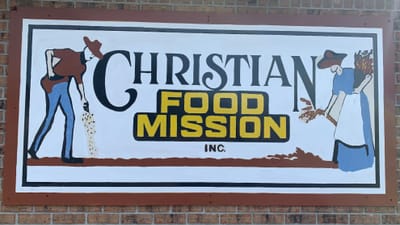 Purpose
The purpose for the establishment of CFM was, and is, provide food for the needy and elderly and to effectively reach people with the truth of the Bible and the love of Jesus Christ. Locally, the structure of our organization facilitates the opportunity for ministry into diverse segments of society as prescribed by Scripture. Elderly widows and others in our community receive lunches each day; the able-bodied needy among us are required to work in return for repeated assistance; the strangers, including newly arrived Hispanics and others, are aided; the spiritually unregenerate are evangelized.
The philosophy which has developed at CFM operates from a foundation which is not only overtly Christian in witness but overtly biblical in principle. We have incorporated biblical methods in our work. Biblical principles such as work, gleaning, individual accountability, personal involvement, voluntary and unsolicited contributions, and responsibility to God are emphasized in all we do. It is our contention, that, as a Christians, it is not only what we do but how and why we do it that matters.
CFM proceeds under the following two premises: (1) The responsibility to care for the poor and elderly according to Scripture lies, first, with the family and, second, with the Church. CFM should never function in such a way that we shield a client from a church, nor do we wish to reduce or supersede the family's or church's role in these areas. (2) CFM volunteers are volunteers solely in ministry for Jesus Christ.
CFM is dependent on churches and Christian individuals for its very existence. The ministry can, in reality, do only as much as the churches and Christian volunteers, through their financial and physical support allow us to do. Please pray for us as we walk in faith with Jesus Christ.
Philosophy/Financial Policy
Under no circumstances will this ministry contract debt... we will not presume on the future but will trust in God to provide funds as needed.
We will not state current financial needs but will share, after the fact, how God has provided for this ministry so that He alone might receive the glory.
We will pray to God and ask Him alone to supply this ministry's financial needs; therefore, no money will be solicited nor will "fund raising" be engaged in by our Board of Directors or paid staff.
Staff salaries are established by the Board of Directors and given only as God provides the funds. No special appeals will ever be made to obtain any salary.
Annually, an account of all funds received and spent will be prepared and will be made available, upon request, to any desiring the same. A financial report will be publicly presented at our Annual Meeting in April of each year.
It has been our consistent practice to solicit no funds for the needs of our work. This has been a topic of much discussion over the years by interested persons. Ultimately, this was formalized into a policy that our Board of Directors and paid staff would solicit no money or engage in fund raising activities of any kind. I would like to summarize why we are convinced that fund raising is not a wise course for the Mission to pursue.
(1) Public pleas for donations will open us to compromise and endanger our Christian witness.
(2) Public pleas for money will potentially cause us to lose our distinctiveness as a Christian endeavor.
(3) Public pleas for money will put us in the position of having to return time and again for money.
(4) God has proven himself faithful in matters of financial provision for the Mission in the past.
(5) Fund raising among the churches is a questionable and inappropriate practice for the Mission to pursue.
(6) We should use the Mission to not only feed the needy and evangelize, but also to strengthen our brothers and sisters.
(7) When we receive money without solicitation or fund- raising efforts on our part, we can give God all the glory.
)8) Fund solicitating targeting segments of the Christian community could hinder our ability to be autonomous in decision making.
(9) Considering much thoughtful discussions over the past years, it is the most logical conclusion that we should not raise funds.